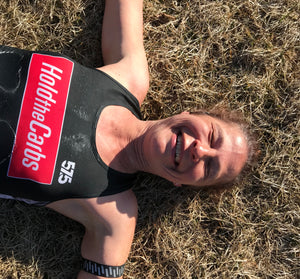 IAU 6h Virtual Solidarity Challenge
I got into the Solidarity Challenge for Team Canada because there were a few things I wanted to try for my upcoming 6-day ultra. The International Association of Ultramarathoners put together this challenge to keep ultrarunners motivated. You could run your 6 hour race anywhere, then submit the file to your country's association who verify the result and submit it to IAU. Each country's national team could have a maximum of 9 women and 9 men participating. There is not really any racing, it is a race against ourselves.
My main goal was to figure out the right amount of fluid per hour that I should consume in my 6-day race and also see if cranberry pills solve my bladder issues. To achieve this, I ran it as if it was a real race. The fantastic news is, that I successfully accomplished this goal.
375 ml / 12 oz per hour it is!
We approached the race without much taper, but I did have a lighter week and a rest day followed by an almost rest day the days before the challenge. It wasn't enough to shed the deep fatigue that I accumulated since December with very consistent training, but it did give me enough spring in my steps to feel good.
I was curious what I could do in a 6-hour race, even though it is far from my real strength which is 24 hour races and beyond. I'm not fast enough to do really well in such a short race, but it is perfect to experiment and push myself a little out of my comfort zone.
My original plan was to go out at a 5:10 min/km (8:15 min/mi) pace and hold it for the first 4-5 hours, then up the pace if I have anything left in me. This pace equals exactly 70km (43.47 mi) in distance during 6 hours. That was the "A" goal.
Once we got going I was feeling really good so I asked my pacer to give me a 5 min/km (8 min/mi) pace. I had an excellent crew, my friends Karen and Norma, and incredible pacers, the two Marks, Paul, Erin, Lisa, Pat and Callie. They are all much faster runners than I am! It was an honor to have them help me.
One of the last laps with Erin, Lisa and Pat
I do this often, that I deviate from the original pacing plan right from the start based on feel. So far, I have always ended up with a better result than planned even though it might not be the smartest thing to do.
We settled at a 4:52 min/km (7:51 min/mi) pace and went through the HM (1:42) and marathon (3:26) at this pace. I was feeling really good and smooth for the first 4 hours, but then things started to fall apart. My pace started to sharply decline throughout the 5th hour and by the last hour I could only hold 5:25 min/km (8:40 min/mi) and no better. Luckily, by that point I was so much ahead of my "A" goal that I still ended up way exceeding it and finished with 71.46km (44.38 mi). This is within 1km (0.62 mi) of the Canadian Age Group record, so that is something I might consider aiming for in the future. Given that this distance is far from what I'm good at, I was really happy with the result.
As for why I fell apart and what happened in the last two hours. The problem was not mental, it was not about top speed and it was not aerobic capacity. The problem was muscle damage. My quads refused to listen to my brain's signals and I was reduced to an easy pace, basically survival mode.
The last hour - survival mode
My theory is that the reason behind this is that I wasn't training for a 6 hour race. I'm training for two things in this season: Ironman distance triathlons and ultrarunning races of 24 hour and longer. In the former, I run at a tempo pace but never more than 4 hours. In the latter, I never run at tempo pace. So my body, my muscles weren't trained for a 6 hour tempo effort and those quads simply decided that they had had enough. But I learned that if I ever want to aim for that age group record, then I will need to train specifically for those last 2 hours and it is within reach with my abilities. Not sure I will get around to that anytime soon, but an option nevertheless.
Would this sharp decline in speed also have happened if I started at the planned 5:10 min/km (8:15 min/mi) pace? I have no idea. But even if it didn't and I kept that pace throughout the whole 6 hours, I would have ended up with less distance. My average pace for the whole 6 hours was 5:02 min/km (8:05 min/mi). So after all, I'm not unhappy with the call I made based on how I felt on the day.
Several members of the Ajax Wannabees running group paced me, including Mark
I'm very new to ultramarathons, I have only done 3 real races and now this virtual one. This phase for me is about experimenting with what works for me and what doesn't, what I'm capable of in the different distances and what kind of training I need to get better at each. It is a learning curve and I am in the very early stages. So any advice you might have (about 6h, 12h, 100 mile, 24h and beyond), feel free to share with me!
---